Student Experience
The Center equips students with a strong theoretical understanding of the real estate capital markets combined with firsthand experience underwriting live transactions and other real world projects that are attractive to employers.  Students can learn, enhance resumes and build networks through year-round internships with leading real estate companies in Washington, D.C., throughout the U.S., and around the world.
Faculty guide students in creating customized plans to achieve their goals. This frequent interaction with faculty and alumni mentors, allows students to meet goals, and secure and prepare for employment following graduation.
Real Estate Mentors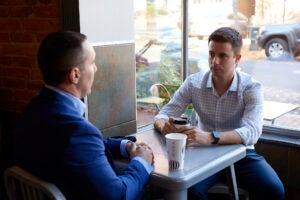 The Steers Center for Global Real Estate designed the Real Estate Mentors to foster the development of tomorrow's industry leaders in real estate.
We believe students should leverage the relationships and accomplishments of Georgetown McDonough alumni, so each year, students are partnered with alumni mentors, who help them:
Identify career paths
Establish professional networks
Understand industry processes
From interview tips and business etiquette to assimilating skills and establishing goals, mentors provide students with invaluable industry insight that helps them develop successful business relationships, obtain jobs, and quickly advance to leadership positions.
The Steers Center for Global Real Estate's Mentor Program is led by McDonough School of Business alumnae, Jessica Flugge (MBA '06), senior director at Marriott International in the Brand, Marketing, Sales & Consumer Insights Group (BMSC). Flugge, along with Director Matthew Cypher, ensures that students are paired with professionals working in the industry sector that most closely reflect their areas of interest. Flugge serves as a resource for mentors and mentees to help them develop and tailor a professionally beneficial and enjoyable experience that fulfills the goals of the mentor program.
If you are interested in becoming a mentor or mentee in the Steers Center Real Estate Mentors Program, please contact us.
MBA Global Real Estate Trek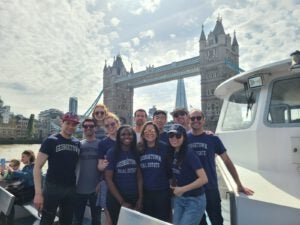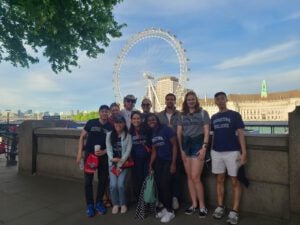 The Steers Center strives to give our students a truly global experience that will allow them to perform at the highest levels on the international real estate stage. Outside of the United States, London is a natural market for students to experience real estate on a global scale. Several firms have head offices in London, which has historically been the epicenter of global real estate with its ease of access to Europe, the Middle East, and Asia.
Each year, a select group of first-year MBA students travel to the city for a five-day global real estate trek. The trip gives students an opportunity to connect with Georgetown alumni and have meetings with major industry leaders. The students learn about private sector and infrastructure development, property ownership, and real estate financing from top industry leaders and fellow Hoyas.
"We have tremendous connectivity to alumni and, in turn, major players in the global real estate sector in London," said Sunil Madan, former associate director of the Steers Center. "Forging personal connections with and via alumni at the forefront of the European real estate industry highlights why London provides such an immersive and educational experience for our students."
MCDONOUGH REAL ESTATE CASE COMPETITION
The McDonough Real Estate Competition comprises MBA and undergraduate level students allowing them to apply what they have learned in a supportive environment. The competitions take place all across the country to give students the most exposure and learning. Undergraduates have an opportunity to travel to Villanova University and the MBA students travel to UNC-Chapel Hill and University of Texas for competitions.
In February, 2017 four first-year MBA students — Mutafa Popal, Kevin North, Beth Carr, and Alex Hermance — placed third at the University of North Carolina Real Estate Development Challenge. The McDonough students presented their findings to top real estate industry judges and competed against 15 other teams from the United States and Europe for $20,000 in cash prizes.
The students were tasked with creating a plan to develop 100 acres at a former army base in Atlanta, Georgia. The teams analyzed real data and considered the location's current community. The McDonough students ultimately proposed splitting the land into quadrants to phase out the project over time.
"It was a very broad case. I think it came down to coming up with an intelligent plan and being able to justify it with analyzing the market demand, looking at what kind of products make sense there, what makes sense given the restrictions on the actual land itself," said Popal, president of the Georgetown Real Estate Society.